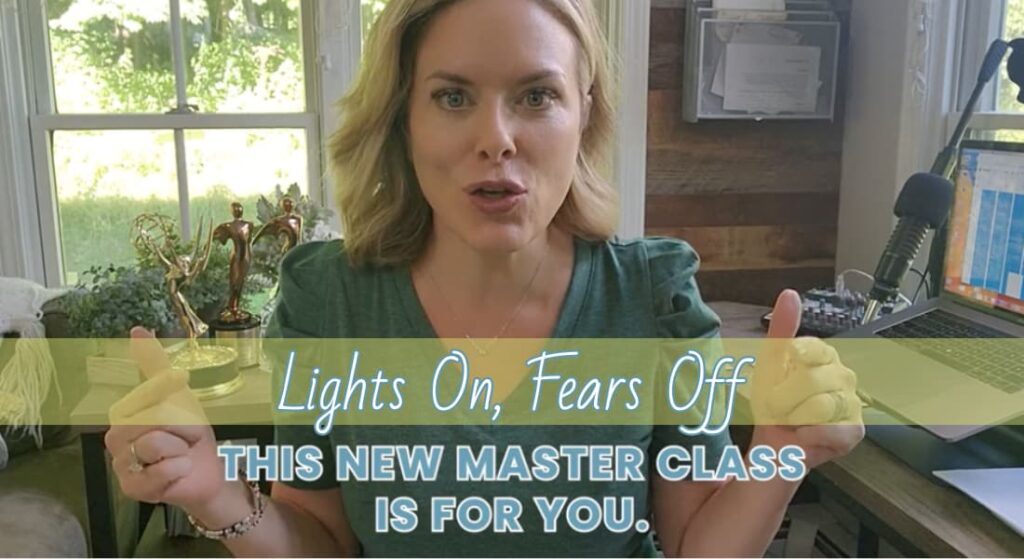 As someone who has recovered from a debilitating fear of being on screen or even just being seen, I have enjoyed an illustrious and Emmy award-winning career as a news anchor and producer. I know how scary it can be to present yourself on camera, especially in this day and age of comment trolls, who can be ruthlessly emboldened by the anonymity of the internet.
That's why I've launched a brand new masterclass, "Lights On, Fears Off," which will teach you how to turn the camera light on, dial down your fears, and deliver to the camera in order to leverage the lens for authority, visibility, growth, audience building, and … let's face it, increased revenue. 
Designed for anyone, but ideal for small business owners and service providers eager to grow their audience and increase visibility, this resource is invaluable and complete with trainings and FAQs, as well as specific feedback and response.
Creating content on screen is not only scary but can be frustrating if you feel like you're shouting into the void, wondering the whole time whether anyone is actually listening. And let's not forget the thumbs down trolls lurking in the comment threads. 
Neither of these are reason enough to shy away from the camera or undermine your own success.
That's why the Lights On, Fears Off framework should be your secret weapon. Supporting on-screen confidence for small business success, this masterclass will teach you tips and tricks to overcome the fears and mindset issues that are standing in your way. 
Let's level up your business together by starting with this new masterclass. Of course, I welcome any of your questions either via direct message on Instagram @iamkerrybarrett or in an email sent to Kerry@KerryBarrett.com
Looking forward to seeing you!