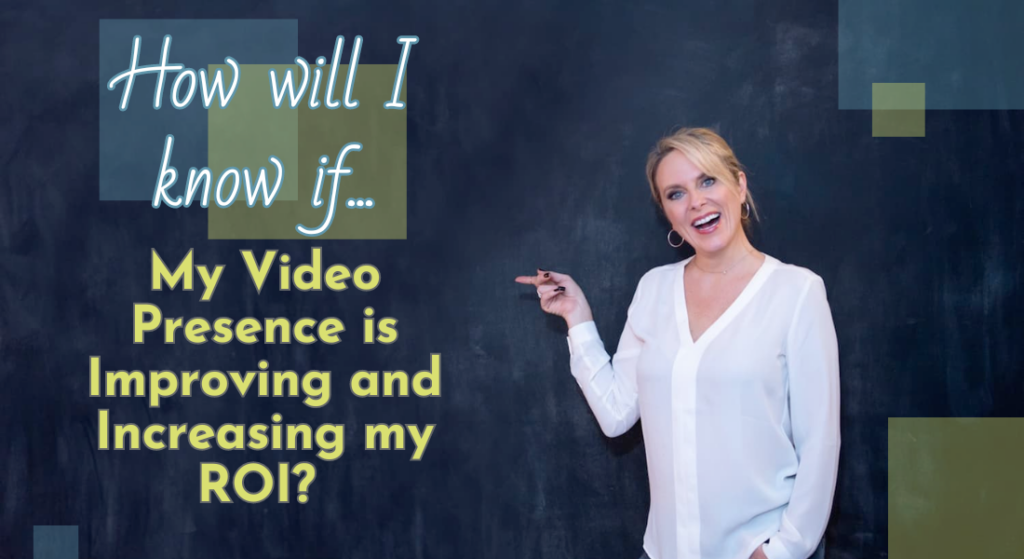 When you're devoting time and effort to strengthening your on-screen presence, of course you'll want to know whether your efforts are working, especially with respect to your ROI.
Fortunately, there are all sorts of ways to analyze your efforts against real results. While some experts have published handy checklists like Twelve Signs Your Public Speaking Skills are Improving, I'll focus here on the intrinsic and extrinsic signals that ultimately indicate your success. 
Let's start with a quick definition of intrinsic and extrinsic factors. Intrinsic results are those felt within — for instance, you might suspect your video presence is improving because you feel more confident on screen. Rather than struggle with anxiety, instead you feel excited, eager to get on screen and share what you know.
The great thing about intrinsic factors, these "hunches," if you will, is that we can back them up by checking extrinsic factors, like the number of video views, increased engagement with your video content, and, ultimately, how many new customers or clients you've booked since you first presented yourself on screen.
Here we take a closer look at these two types of information to really gain a clearer understanding of how we can measure progress and determine whether your video presence is improving enough to move the needle on your ROI.
5 Extrinsic Clues that You're Crushing it on Camera
Without underestimating the absolute importance of feeling more confident on camera, many people will still feel apprehensive on screen while also embracing a commanding on screen presence.
Setting emotions and self-confidence aside for a moment, here are the can't-deny, data-driven results that prove your efforts to make an impact via video are, in fact, paying off (literally).
Increased engagement: If your videos are getting more likes, comments, and shares, it's a good sign that your video presence is improving. Engagement is a key metric that shows how well your videos are resonating with your audience.
Higher view count: A higher view count means that more people are watching your videos. This can be an indication that your video presence is growing and that your content is reaching a wider audience.
Improved video quality: As your videos become more polished and professional-looking, you can trust that your video presence is improving. Indicators of higher quality videos can include better lighting, sound quality, and camera work. Improved video quality can reflect a professional awareness that video quality matters as much as your video presence. By taking the quality of your videos seriously, you're communicating a level of polish and professionalism represented by your brand.
Increased website traffic: With videos driving more traffic to your website, your video presence is likely helping to achieve your business goals. An important metric for any business, you can easily track your website traffic using tools like Google Analytics.
Higher conversion rates: Suddenly getting more sign-ups or sales? These conversions certainly indicate that your video presence is improving, which you can analyze in greater detail by using Google Ads.
Ready to polish your presence on camera and start reaping the benefits of an increased ROI?
Let me help take your business to the next level! Get started!